2017-2018 Season
Please join us for our Spring 2018 Concert- Nostalgia: The Way Things Probably Weren't, April 28th, 2018 at Unity Lutheran Church, 1212 W  Balmoral , Chicago, Il 60640.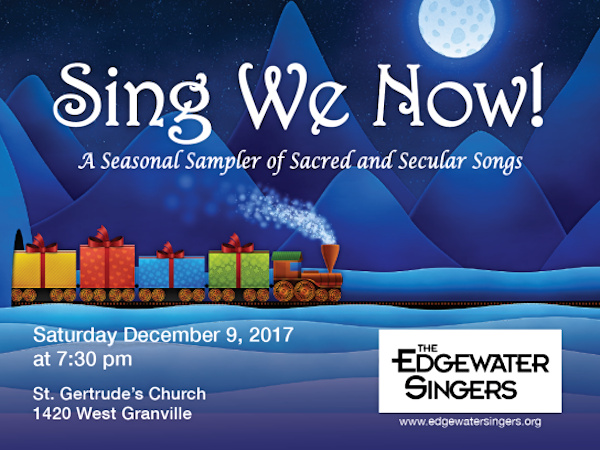 Sing We Now: A Seasonal Sampler of Sacred and Secular Songs 
Happy Hanukah, Blessed Solstice, Merry Christmas and Habari Gani!  Join The Edgewater Singers as we celebrate holidays from many traditions in traditional ways with stars, candles (lots of candles), sleighs, snow, shepherds, unity cups, mugs of Glogg, latkes, sugar plums and the fruits of the harvest. Hear our beloved stories recounted in song from folk melodies to Louis Armstrong with Alfred Burt, John Rutter and our own Philip Seward in between.
Date: December 9th, 2017, 7:30 pm
Location: St. Gertrude's Church,  1420 W Granville Ave, Chicago, IL 60660
Upcoming Fundraising Events

Auditions
Please consider joining us for our 2017-2018 Season. Auditions will be held this fall for ALL VOICE TYPES! For more information, please visit our Auditions page or send us an email.