We began as a group of five friends who decided one wintry evening in the early 1980's that they would love to entertain friends during the holiday season by caroling. Over the next few years, several concerts were held for friends and family, and more singers joined in the chorus. In December of 1984, eleven singers engaged another four friends for a holiday program, followed by an expanded program in the spring of 1985.  Since it's original founding almost 40 years ago, The Edgewater Singers has continued to provide free choral concerts to Chicago's North Side.
The group can often be found participating in artistic and socially relevant neighborhood events. Please become part of our part of our storied history by becoming a member or seeing one of our performances!
Mission
The Edgewater Singers is a community choral ensemble whose mission is to promote the knowledge and appreciation of choral repertoire through performances offered free to the public.  The Organization prepares choral music programs for holiday concerts and concerts designed around a theme with narration for performances in the spring.  It holds concerts in area churches and performs outreach concerts of each program in facilities that provide services to seniors.  Such concerts are a service provided to the community.  Moreover, the Organization seeks to educate and promote emerging talent in the community and to offer solo vocal and instrumental performance opportunities to rising professional artists.
Artistic Leadership
Philip Seward, Artistic Director

Philip Seward has worked internationally as a composer, pianist, tenor and teacher. In 2013, How To Date A Coloratura, Philip's chamber opera was one of three finalists at the National Opera Association Chamber Opera Competition. In the same year another opera, Eve, premiered as a part of Midwest New Musical's series of new works in concert. Highlight's of Mr. Seward's compositions include productions of Les Dames á trios…et piano at the Kaye Playhouse in New York City and the Stages Festival in Chicago; High Fidelity at Merkin Hall in New York City and the Chicago Humanities Festival; and Jeff Award-winning Hans Brinker, which ran for five seasons at Theatre Building Chicago.
The world renowned Lyric Opera of Chicago commissioned numerous piece that include, Stone Soup, A Noteworthy Tale, and African Stories. These works were produced in Chicago, Toledo Opera, Memphis Opera, and Pensacola Opera among others.  The Lira Ensemble of Chicago also commissioned works by Philip Seward including Blessing premiering on WFMT radio.  Another piece for chorus and orchestra, Sonnet, was performed at the Chicago's Symphony Center.
As a pianist Philip Seward has performed his compositions for piano as well as other contemporary composers all over the United States and in Europe including stops in Holland, Germany and Poland. As a singer Seward sang the role of Eisenstein in Die Fledermaus for Intimate Opera; John Jasper in The Mystery of Edwin Drood; Lt. Cable in South Pacific; the prince in R & H Cinderella.  Other productions featuring Philip Seward – The Beggar's Opera, A Chorus Of Disapproval, The American Clock, Happy End, and The Phantom of the Opera.  Internationally he performed Art Song recitals in Rzeszów and Wroclaw in Poland.
Philip Seward is the recipient of the Excellence in Teaching Award that he received during his teaching career at Columbia College Chicago. Aside from his composing, performing and teaching Philip also conducts the choir at St. James Presbyterian Church, the Edgewater Singers and is currently completing his DMA in Composition with Dr. Stephen Davismoon at the University of Salford.
Mr. Seward's publisher for his choral music – Porfiri & Horvath.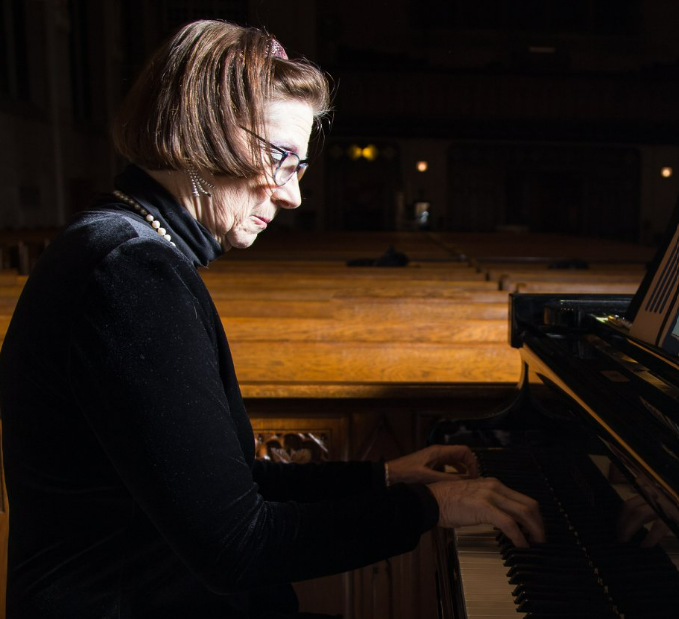 Mary Clare Barker, Accompanist
Mary Clare Barker holds a Bachelor of Music degree in Music Education from Western Michigan University and a Master of Music degree in piano performance and accompanying from Northwestern University. She lives in Chicago and is an active teacher, soloist, accompanist, composer, and lecturer. Ms. Barker has been entertaining Chicago audiences for the past thirty years in many of Chicago's finest hotels and restaurants with her piano stylings and songs. A talented singer who can sing in 5 languages, Mary Clare often is called upon to perform in a classical venue or a jazz gig. For the past five years, Mary Clare has been the full time music director of St. Gertrude Catholic parish in Edgewater. Her work in liturgical settings led her to explore the field of composition and she has composed two Masses in addition to several hymns. She is thrilled to be the accompanist for the Edgewater Singers for the past four years and enjoys working with this musically diverse group.